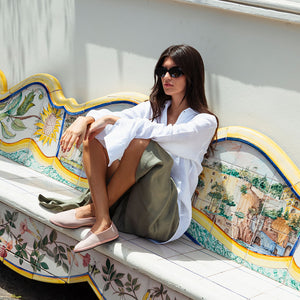 Meet Us
Azaleri is an Italian story of passion and love for what this land has to offer. It was born in Venice with the desire to give each of you a taste of our timeless fusion of manufacturing art and Italian lifestyle. 
Elegant informality is the basis of our design, caring for the future yet drawing great inspiration from the past. 
We only collaborate with artisans, whose secrets and techniques of manufacturing have been passed down from generation to generation, continuing to refine them over time. All our designs are Italian, in all respects, handmade by humans for humans.
Timeless Lifestyle
There is no greater joy than owning something that becomes more beautiful with time. The emblem of this lifestyle is the combination of what tradition has to tell us and what the future has to offer.
Italian Craftsmanship
San Daniele, Friuli Venezia Giulia is the beating soul of our handcraft production. Needle, thread and skillful manual techniques are all that is needed to bring our creations to you.
Virtue
We work through a slow creation process. We want to reduce the unnecessary impact on other beings and our planet by providing an alternative to mass production.
"We embrace supreme quality, great beauty, and unique excellence under an ethical approach."